It is often said that marriage is a very holy bond between two souls who are made for each other. There are many ceremonies that take place in a traditional Indian Hindu Wedding like Kundli- Milan, engagement, Haldi, Sangeet, Mehandi and Saat phere. We have discussed the importance of wedding rituals here, do give it a read:
Here, we are excited to share with you the meaning of a ritual which is the Saat Phere in the Hindu wedding. This is one of the important rituals without which a Hindu wedding is incomplete hence it holds a valuable place amongst the other ceremonies.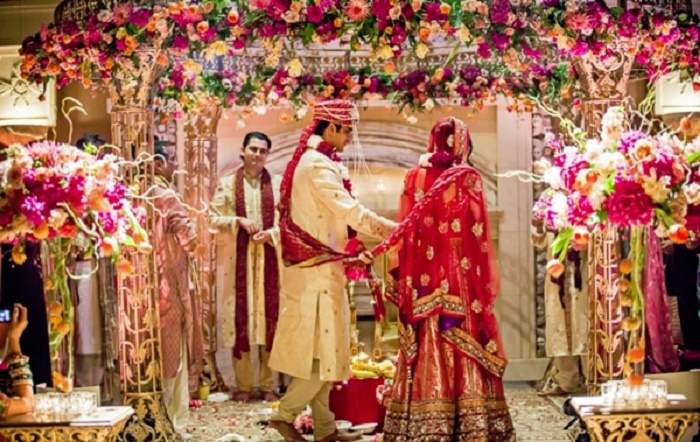 These Saat Phere are like vows which a bride and groom take as a sense of responsibility they will have to fulfill while they are bound together in the marriage relationship. These are basically the promises that the couple makes to each other to live a happy and prosperous life throughout their journey together. Saat pheras are done by walking around the holy fire and praying to the deities for a happier marriage life with every vow they take together.
First Phera: During this Phera, the couple takes blessings from the deities to get proper food required for the nourishment and better health and that they need to respect and honor each other's dignity.
Second Phera: The couple promises each other to walk together and protect their family and children and request the god to bless them with physical, mental, emotional and spiritual strength.
Third Phera: In this phera, the couple promises each other to earn their living honestly and prays to god for a prosperous life. They also promise that they will always be loyal to each other for the rest of their lives.
Fourth Phera: The groom is thankful to the bride for entering his life and completing it. The bride also promises him to keep their family together and happier.
Fifth Phera: The couple together prays to God for healthy, courageous and kind children and the strength to raise them with proper education, nutrition and values.
Sixth Phera: During this Phera, the bride and the groom promise each other that they will take care of each other's happiness and health and fill each other's life with immense joy and pleasure.
Seventh Phera: This is the last phera in which both of them accept each other completely and promise to live together with the utmost trust, love, care, and understanding.  They promise to be there by each other's side through every hardship.